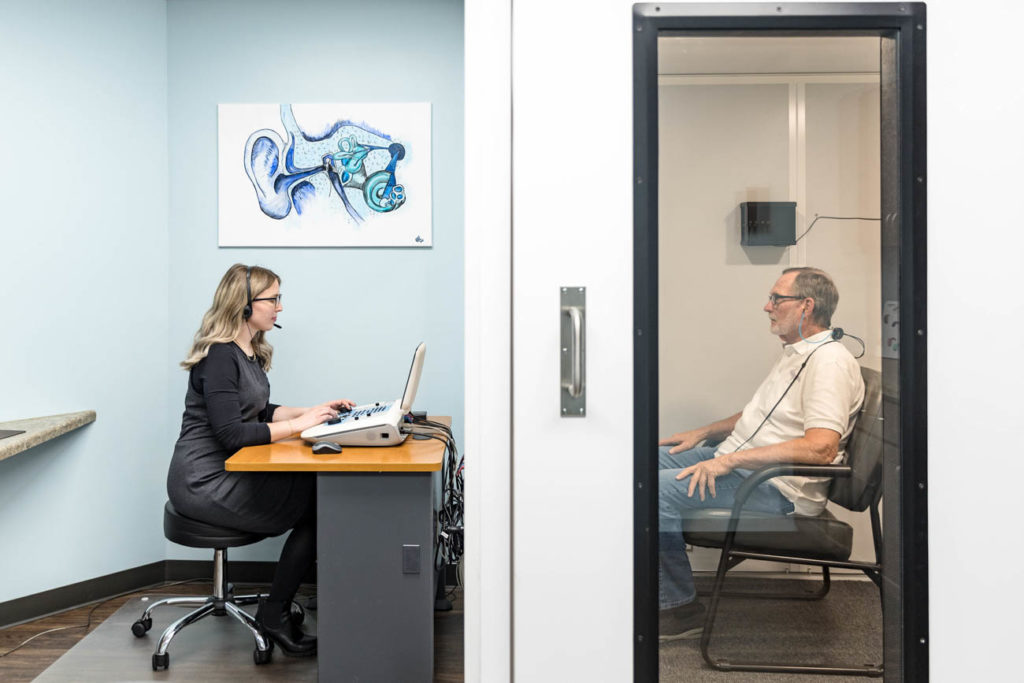 Best practices are the cornerstone of everything we do. From testing that includes using MCL, UCL, air and bone conduction, speech reception and speech discrimination as well as speech in noise testing, we are in the top 10% of audiology clinics in the country that follow these best practices. 
Hearing aids are verified using speech mapping technology for a hearing aid fit that is custom to YOU. We have many options, styles, and manufacturers to choose from, but the bottom line is, it is 90% about the professional (Audiologist) who is FITTING your hearing aid and only 10% about the actual brand and style we choose.
Comprehensive Hearing Evaluations
Our audiologists are extensively trained to provide diagnostic hearing evaluations for all ages. We work closely with your physicians and other care providers to find the best solution for you. Your family is always encouraged to attend appointments. Upon completing your hearing evaluation, our audiologists will discuss your test results and answer any questions that you may have regarding your hearing loss. Contact our Houghton office or Iron Mountain office to schedule an appointment. 
Hearing Aid Fitting and Follow-Up
Upper Peninsula Audiology offers the latest digital technology in a variety of hearing aid styles from today's leading manufacturers that are at the forefront of research and technology. Moreover, we provide counseling to help you communicate more effectively with your family and friends and adjust to your hearing aids. We use the most advanced fitting methods and equipment and verify all of our fittings. We also encourage return visits in order to fine tune your hearing aids so you are hearing optimally.
We believe that an educated patient is a happy patient. We want you to understand your hearing loss and the options that are available to you.
We accept most insurances and partner with The Veteran's Administration to provide Community Care to our local Veterans.  We also work with Michigan Vocational Rehabilitation Services.
Our clinic works with both traditional hearing aids as well as bone anchored devices (BAHA).
If you are unsure if hearing aids are the right option for you, we offer demonstration hearing aids that we can fit on you and let you take them out into your world for 2 weeks.  This is an option that can be discussed at your hearing evaluation appointment.
Cochlear Implant Evaluations and Adjustments
We are the only audiology clinic in the Upper Peninsula offering cochlear implant evaluations and adjustments to cochlear implants at both of our locations. As part of the Cochlear Provider Network, we have partnered with Dr. Oldenburg from Prevea Health in Green Bay, WI. Are hearing aids no longer helping you? Do you miss conversations, even in quiet? Call our office to discuss the next step beyond hearing aids and schedule an evaluation with one of our providers.
Industrial Hearing Screenings and Protection
We offer on site as well as off site services for companies that would like to outfit their entire company with custom hearing protection. Call us to discuss how custom hearing protection could save you thousands of dollars every year over disposable hearing protection.
Companies can also utilize our hearing screening services to be in compliance with yearly OSHA protocols. Contact us to find out how we can provide testing for your company.
Newborn Hearing Screenings
Has your infant failed a newborn hearing screening in the hospital? We can retest your baby's hearing and advise you on further care if your child does have a hearing loss.
Compensation and Pension Evaluations for Veterans
We contract with VES, QTC and LHI to offer compensation and pension evaluations to Veterans who are pursuing service connection between their hearing loss and/or tinnitus to noise exposure while in the military.
In our Houghton, MI office we contract with the VA as part of the MISSION act to serve our local Veterans. The MISSION act gives Veterans greater access to healthcare. If you are a Veteran that lives more than a 60 minute drive from a VA that offers specificity care (i.e.-Audiology) you should be eligible to be seen locally. Contact your VA provider to see if you are eligible.
Custom Hearing Protection and Swim Plugs
Custom hearing protection is the perfect way to seal out the noise and preserve your hearing. Whether you're mowing the lawn, using it for your job, or trying to block out the person next to you that is snoring, we can find the right hearing protection for you.
In addition we can create custom swim plugs to keep your ears protected when you're in the water.