Audiologist in Iron Mountain, MI
Upper Peninsula Audiology in Iron Mountain, Michigan
At Upper Peninsula Audiology, we understand that hearing is more than one of our senses. Hearing, listening, and communicating allow us to be a part of the world. To better serve our community, we have opened an office in Iron Mountain, Michigan. Please contact us to set up your appointment.
Dr. Kati Stilwell – Audiologist in Iron Mountain, MI
Dr. Kati Stilwell is our main Audiologist in Iron Mountain, Michigan. She is from lower Michigan and has found her home in the beautiful UP. Dr. Stilwell received her bachelor's degree in Speech and Hearing Health Sciences from Northern Michigan University in 2015. Kati received her doctoral degree in Audiology in May 2019 from Central Michigan University.
Dr. Stilwell established the only cochlear implant program in the Upper Peninsula in 2019. She is passionate about best practices and providing top of the line hearing healthcare to all of her patients.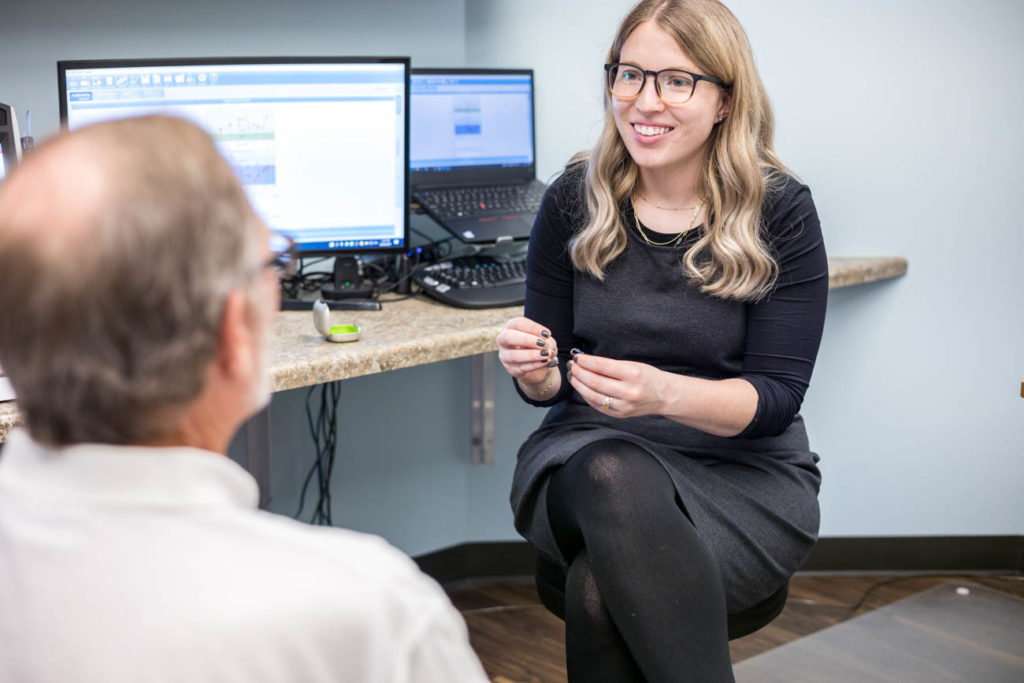 Comprehensive Hearing Evaluations
With our office in Iron Mountain, you will not have to travel far to receive the best in hearing care. Our extensively trained audiologists provide diagnostic hearing evaluations for all ages. We work closely with your physicians and other care providers to find the best solution for you.
Best practices are used to achieve best outcomes; therefore, you will receive an extensive evaluation, provide a case history and receive counseling about the results. Your audiologist will help you choose the best treatment option for you.
Upper Peninsula Audiology in Iron Mountain offers the latest digital technology in varied hearing aid styles from leading manufacturers. We ensure the aids we use are at the forefront of research and technology. Moreover, we provide counseling to help you communicate more effectively with your family and friends and adjust to your hearing aids. We use the most advanced fitting methods and equipment and verify all of our fittings. 
To help provide services to all patients, we accept most insurance programs and work with Michigan Rehab Services.
We offer services on both traditional hearing aids and bone-anchored hearing aids (BAHAs).
If you don't know if hearing aids are the right option for you, we offer demo hearing aids. You would return for a demo appointment and get to try out hearing aids that are programmed for YOU for about 2 weeks.
Custom Hearing Protection
Custom hearing protection is the best way to seal out the noise and preserve your hearing. Whether you are mowing the lawn, require protection for your job, we can find the appropriate hearing protection for you. At our office in Iron Mountain, we can create custom hearing protection for you or your entire company.
Compensation and Pension Evaluations for Veterans
We contract with VES, QTC and LHI to offer compensation and pension evaluations to Veterans who are pursuing service connection between their hearing loss and/or tinnitus to noise exposure while in the military.
Please contact us so that we can help you hear what you've been missing!
Upper Peninsula Audiology – Iron Mountain
127 South Stephenson Ave, Suite 105
Iron Mountain, MI 49801